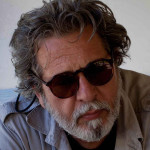 Nikos Economopoulos was born in Greece. After studying law in Parma, Italy, he worked as a journalist in his native country. Meanwhile, he pursued photography, and in 1988 he began a long-term project in Greece and Turkey. He photographed whatever he came across on his daily walks: street scenes, public gatherings, solitary meanderers, or deserted landscapes. In 1990 Economopoulos joined Magnum, and his photographs began to appear in newspapers and magazines worldwide. In the same year he started to take photographs in Albania, Bulgaria, Romania and the former Yugoslavia, investigating the territorial, ethnic and religious tensions of the region, as well as the endurance of traditional social and religious rites. This work earned him the Mother Jones Award in 1992.


Supported and encouraged by the charity Little Brothers of the Poor, Economopoulos undertook a project on poverty and exclusion in Europe, focusing on Gypsy communities in Greece.
From 1995 to 1996 he photographed lignite miners and the Muslim minority in Greece. In 1997-98, he photographed people living along the Green Line dividing southern and northern Cyprus; illegal immigrants at the Greek-Albanian border; and young residents of Tokyo. During this period he also worked in Macedonia, Albania, Turkey, Corsica, and along the Greek-Turkish border.
In 1999 and 2000, he covered the mass emigration of ethnic Albanians fleeing Kosovo. Concurrently he completed a commission from the University of the Aegean on the preservation of the region's storytelling tradition. He was given the Abdi Ipektsi Award for peace and friendship between Greece and Turkey in 2001. A retrospective of his work was shown in 2002 at the Benaki Museum in Athens.
See also:
– http://www.ontheroad.gr
– Portfolio on magnumphotos.com