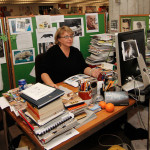 Spat is clear Roman by birth and but lives in Milan.
The passion for photography has led her to work for years in the photojournalistic agency "Contrasto", growing up with his best photographers and interfacing with the historical photo agencies Magnum and Corbis.
After a year living in New York started to work as photo editors at Grazia, where she still nearly ten years after this role. She is part of the Grin (Gruppo redattori iconografici nazionale), the association that brings together the photo editor of Italian newspapers. She's a professional journalist since 2006.
LuganoPhotoDays 2013
– portfolio review: October 13, 2013 (afternoon)