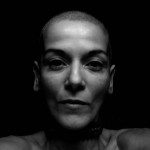 I  have an artistic background  in the "research" theatre. Resident in Madrid from 2000 to 2007,  I worked as independent photographer joining different media (Servimedia, Red Cross Spain, national magazines) in photojournalism, reportage and portraiture. Back in Italy, I focus my photographic research in a perspective more subjective and artistic.
I published for: Gatopardo Mag (Mexico), Vive Mag. (Australia), La Tercera (Chile), Panorama (Italy), Le Journal de la Photographie (France), Playboy (Italy).
In April 2013, with a crowdfunding campaign I self publish my photo-book "La petite mort",  that will be exhibited during the Photo Festival in Arles (Book Award Exhibition), and in the photo festival SiFest. The book has been exhibited during the month of July at Galleria Nobili in Milan.

Invalid Displayed Gallery
See also:
– 
Dana de Luca
LuganoPhotoDays 2013
– book presentation La petite mort by Dana de Luca: October 18 at 5:30 PM at Il Ciani