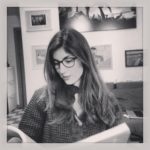 Born in Milan. After graduating in Fashion Marketing from St Martins School in London, I started working for Contrasto Photo Agency in Milano. In 2004 I moved to Grazia Neri's Photo Agency, where I represented several international agencies and photographers and I selected new photographers for the Agency. In 2008 I went to New York to work as the agent of documentary photographer Donna Ferrato and representing Grazia Neri's photographers all through the US, while collaborating with magazines such as: The New York Times, Newsweek, Time and other major publications.
In 2009, I came back to Milano and I started my own Agency: DB where I represent a few selected documentary and fashion photographers and illustrators for advertising and corporate work. I am a producer and photo consultant for advertising campaigns in Italy and Worldwide. My clients included: Young & Rubicam, Benetton, Fabrica, Air Dolomiti, Tita, Barabino & Partners, Burberry, Alberto Guardiani, Geox, Brema, Nestlé.
My lecture: "Using skills of documentary photography in corporate and advertising fields" has been hosted in several cities: Moscow at Gallery Photographer.Ru, Naples, New York during Donna Ferrato workshop, Bologna Passion & Profession, Paris with Stanley Greene, Milano at Polifemo Fotografia, Beirut at Mark Hachem's Gallery with Samer Mohdad and in Zagreb at the Croatian Press Photographers Association.
I have recently taught at the workshop: "the Flying Course" with Stanley Greene in Paris, during Paris Photo 2012 and at "Love Venetian Style: an Intimate View" with Donna Ferrato in Venice.
In these years I was invited as a portfolio reviewer at Les Rencontres de la Photographie in Arles, Passion & Profession, Festival della letteratura di viaggio, PhotoPlus Expo in New York and as a member part of the Jury for the "Prix de la Photographie Paris" Px3, Czech Press Photo Contest, IPA,  Croatia Press Photo and as a nominator for the Prix Pictet.
Beside my own business, I'm the photo editor consultant and editorial coordinator for "Touring" National Geographic Traveler Italy.
See also:
– DB Daria Bonera
– Touring Magazine
LuganoPhotoDays 2013
– portfolio review: October 13, 2013 (afternoon)
– workshop with Daria Bonera: October 13, 2013 (morning)