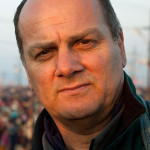 Didier Ruef was born in 1961 in Geneva, Switzerland. After graduating in Economics at the University of Geneva he took up photojournalism at the International Center of Photography (ICP) in New York. It was there that he developed his long-term essay on the life of a Puerto Rican family in Spanish Harlem, for which he won the Yann Geoffroy Prize in Milan, Italy, in 1990.
Since returning to Switzerland in 1987, he has started to work as a freelance documentary photographer and photojournalist working in color and black & white and has visited all five continents, with a preference for Africa. He was a member of the Network Photographers Agency in London from 1991 to 1997 and a founding member of Pixsil from 2002 to 2009. He is now working as a freelancer photographer.


He is currently represented by the photo agencies Cosmos in France, Luz Photo in Italy and Visum in Germany.
He has worked with Médecins Sans Frontières, the Global Fund, the World Council of Churches, Heks (Interchurch Aid), the Swiss Red Cross and the Syngenta Foundation.
Ruef's photographs have been published in major international magazines and newspapers, such as Time, The Observer Magazine, The Independent Magazine, Daily Telegraph, The Economist, Le Monde, Libération, L'Express, Le Nouvel Observateur, L'Hebdo, El Pais Semanal, Geo (South Korea), Rhythms Monthly (Taiwan), Discovery (Honk Kong), Ogonyok, Marie Claire (Italy), D La Republica, Der Spiegel, Die Zeit, Das Magazin, Neue Zürcher Zeitung.
He had solo exhibitions in Switzerland at the Völkerkundemuseum Zürich; Coalmine Gallery, Winterthur; Musée de l'Elysée, Lausanne; Galerie Focale, Nyon; Museo d'arte, Mendrisio. And abroad at the Museo da Imagem e do Som (MIS) in São Paulo, Brazil; the Jordan National Gallery of Fine Arts, Amman; Centro Culturale Svizzero in Milan, Italy; Bibliothèque Municipale de Bordeaux, France; The Substation, Singapore.
Among others, he had collective exhibitions in China, 10th Shanghai International Photographic Art Exhibition; in Tirana, Albania for Objective: People's World ; in Culturgest Lisboa, Portugal for O seculo do corpo. Trabalhos fotograficos 1990-1999; in Fotomuseum Winterthur in Switzerland for Weltenblicke. Reportagefotografie und ihre Medien.
Didier Ruef has published five books: in 1998 Paysans de nos montagnes | Editions Monographic and in German translations as Bauern am Berg | Offizin Verlag and in Italian as Vita di montagna | Edizioni Casagrande; in 2005 Afrique Noire | Infolio Editions; in 2007 Enfants Prisonniers | DiDé; in 2011 Recycle | Labor et Fides in french and english and Recycle | Edizioni Casagrande in italian and german; in 2012 Bestiarium | QTI in italian.
See also:
– http://www.didierruef.com
– http://www.didierruefworkshops.com
LuganoPhotoDays 2013
– workshop with Didier Ruef: October 12-17, 2013
– lecture with Didier Ruef: October 16 at 8:30 PM