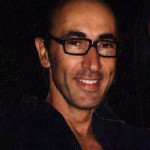 Born in Milan, developed a passion for photography in the 1980s considering it a means of expression, of documentation and awareness. In addition to his aesthetic or artistic production, he often loves to do research on specific topics that involve him personally; known his reportage on homelessness in Milan.
He has exhibited in various cities and locations, and has received some awards.
Today he specializes in fine-art photography, creating personal portraits and developing them artistically. He also works on the preparation and realization of interior design projects for offices, hotels and private homes.

Invalid Displayed Gallery
LuganoPhotoDays 2013 (OFF event)
– exhibition 
Beijing 2008
 by Fabrizio Capsoni: October 12-20, 2013
– presentation by Paolo Blendinger: Tuesday October 15, 2013 at 6 PM