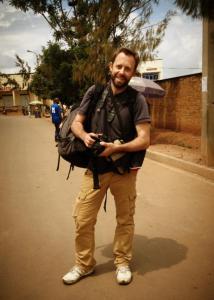 Passionate about development issues and cultures from the South of the World, Giordano holds a specialization in Journalism from Crisis Areas and a degree in Engineering. He is particularly interested in applying new technologies and multimedia journalistic formats to humanitarian crises and sustainable development issues, promoting understanding and long-term investigation rather than sensationalism and foreign bias. His articles and videos have received appreciation precisely for raising forgotten issues through a human perspective.
Italian by birth, he lived in several countries worldwide, speaks 4 languages and is currently based in France. In the latest years he contributed to Italian daily La Stampa and weekly L'Espresso, US dailies The Christian Science Monitor and The Epoch Times, and multimedia outlets such as RFI (Radio France Internationale) and TV5 Monde, with multimedia reports from Haiti, Kosovo, Rwanda and Ethiopia.
In 2011 he co-directed his first web documentary, reporting the (non) reconstruction of Haiti after the earthquake (Goudou Goudou, the ignored voices of reconstruction) with the active participation of 5 Haitian journalists from local radios (www.goudou-goudou.net). The web documentary received the Special Mention of the Jury at the Web-TV Festival of La Rochelle (France) and Digital Heretics Prize at the International Journalism Festival in Perugia (Italy), 2011.
The web documentary "20 Years On: Portraits from Changing Rwanda" has recently been awarded the Prix Italia 2014 in the "Best Digital Storytelling" category.