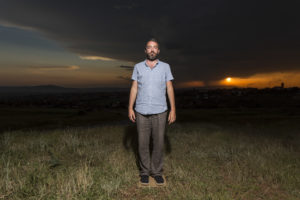 Marco Matteo Fieni (born on February 3, 1976 in Mendrisio) is a Swiss photographer. He lives and works mainly between Lugano and Zürich.
Fieni attended the Istituto Europeo di Design (IED) in Milan from 1998 until 2001 where he immediately began to experience photography as artistic research acting against the mainstream business philosophy of the school. He ventured into conceptual photography, exposing in different "OFF" scenes such as "Argos Project" (Image festival, 2000, Vevey, CH) and La Fabbrica (Losone 2001-2003). After a period of study at the Università della Svizzera Italiana (2007-2010, USI) he took up his photographic discourse with "Ritratti Metropolitani"

Ritratti Metropolitani started as a personal street photography project, which consisted in making portraits of passers-by who where willing to participate in the project through a photographic dogma for build a philosophical message on human equality. In its progression it refers to people of different social, cultural and religious background who fancy to get together under the glance to which this project aspires. Alter the first year the research became increasingly focused on the relation between the portrayed individual and the personal setting in which they move, live and exist. With this method, the project becomes more and more interdisciplinary by crossovering anthropology, architecture and town planning.
In 2012 Fieni has been awarded with a performance RM#26 in Italy (Premio Metrocubo 2012, Ancona, IT). He also analyzed the issues related to communication and identity by an editorial cinically titled "Good Morning, Lugano" receiving the Swiss Photo Award (ewz 2012, Zurich).
Bally Artist 2013