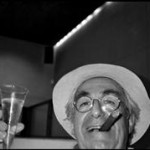 René Burri, born in Zurich (Switzerland) in 1933, studied at the School of Applied Arts in his native city. From 1953 to 1955 he worked as a documentary film-maker and began to use a Leica while doing his military service.
Burri became an associate of Magnum in 1955 and received international attention for one of his first reportages, on deaf-mute children, "Touch of Music for the Deaf", published in Life magazine.
In 1956 he traveled throughout Europe and the Middle East, and then went to Latin America, where he made a series on the gauchos that was published by Du magazine in 1959. It was also for this Swiss periodical that he photographed artists such as Picasso, Giacometti and Le Corbusier. He became a full member of Magnum in 1959, and started work on his book Die Deutschen, published in Switzerland in 1962, and by Robert Delpire the following year with the title Les Allemands. In 1963, while working in Cuba, he photographed Ernesto 'Che' Guevara during an interview by an American journalist. His images of the famous revolutionary with his cigar appeared around the world.
Burri participated in the creation of Magnum Films in 1965, and afterwards spent six months in China, where he made the film The Two Faces of China produced by the BBC. He opened the Magnum Gallery in Paris in 1962, while continuing his activities as a photographer; at the same time he made collages and drawings.
In 1998 Burri won the Dr Erich Salomon Prize from the German Association of Photography. A big retrospective of his work was held in 2004-2005 at the Maison Européenne de la Photographie in Paris and toured many other European museums. René Burri lives and works in Zurich and Paris.


See also:
– Portfolio su magnumphotos.com
LuganoPhotoDays 2013
– exhibition Impossible Reminiscences by René Burri: October 12-19, 2013
– lecture with René Burri: October 12, 2013