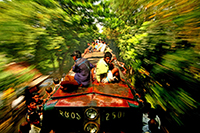 Survivors by GMB Akash
My project "Survivors" spans a 10-year-period and stretches across Bangladesh, India, Nepal, Sri Lanka, Philippines, Pakistan and Bhutan. It depicts the invincibility of the human spirit to survive against all odds. "Survivors" focuses on the people at the bottom of societies – those who must struggle on a daily basis, simply to survive. People who live on the margins of society have had a big impact on me and have served as an inspiration for the photographic work I do. The social orders I've witnessed have brought me to realize that those who live at the lowest rungs of the economic ladder are "survivors" in humanity's truest sense. Deprived of even life's barest necessities, these people still manage to live each day with a smile on their face.
Through this project, I trace the lives of those whose existence is based on serving others, rather than themselves. They have no means to break the vicious circle of poverty they are locked – even born – into. It's their "curse" to bear — for a lifetime. As a photographer, I feel it is my task to show the world these "unseen realities" and to shed light on what most of us never see with our own eyes. I want to show the things that simply "shouldn't be". For many years I have been working on child labor as part of this project: situations where childhoods are sold for less than a dollar a day — and gone forever.
Once an 8-year old balloon maker told me: "I took some damaged balloons for my little sister, I have no time to play. I have only time to support my parents." It was at that point that I realized I should turn my lens on lives like her's. Over the course of the last decade, I have built a collection of photographs depicting the wise, resigned, sad and sometimes bewildered faces of children, sex workers, climate change survivors and many others who share the "struggle" day-in and day-out. And although the circumstances of many of the people I portray may be grim, as individuals they are oftentimes people of remarkable character. And it is the beauty of such people and the human soul that remains when nearly all else is gone.
This beauty I strive to capture in the photographs I take. When born in a poor country like mine, people acquire the natural ability to fight against the odds. Surviving in a poor country — facing adversity daily — is akin to a lifetime of tragedy. So in a number of ways, the images presented on these pages are my own experiences, too. My journeys connect me to the many characters. Sometimes I had to run,take a ride on the roof of a moving train, sleep on a flooded floor and spend many hours walking the maze of avenues through sprawling city slums. It is the reaching of my protagonists, the welcome into their homes and their lives, that makes my work worthwhile. And if mine is the hand that blocks the scorching sun from their eyes — bringing shade for just a single minute, then there's value in the work I do.
I sincerely hope that "Survivors" will be a powerful voice to reach and touch people's hearts. I have given years of my own life to this project and through it, I feel I have taken on a responsibility for the people I photograph. It's been a journey that portrays not just people, but the varied and undeserved circumstances they are in — a battle that is fought in large part, with little more than a fleeting smile.
But my aim with "Survivors" is to move beyond documentation only.
My goal is to bring whatever help possible to such people as these. To this end, I have formed a small, but growing activist group, comprised of friends and well-wishers who wish to personally "make a difference" — to break the circle of poverty that these lives endure. I have engaged in specific projects for certain groups: targeting one slum or a brothel or a particular community and providing help for their longterm improvement. Activities include donating rickshaws to a community, sewing machines to brothels and providing education for children. With this goal in mind, 25 percent of each book price collected will go directly to help run these ongoing projects. I hope you will make this contribution from your heart.
Video

Details
When: October 12-25, 2013
Guided visit with the author GMB Akash: October 15, 2013 at 5 PM
Opening time: Monday – Friday, 9 AM – 5 PM (upon request on week-ends)
Location: CSIA
Price: free entrance
Sponsor